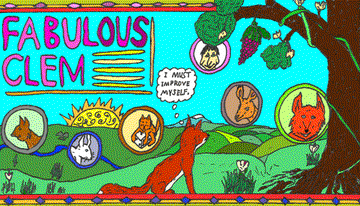 8/17/09 - Excerpt added to What Is Best? section! More to come!
8/2/09 - I added links to my friend Tambu below.
7/27/09 - My book, What Is Best?, is for sale!! I put up a page about it!
7/23/09 - Games section revised.
7/22/09 - Main page revised.
7/21/09 - I've registered the domain thorintatge.com and moved the website! What a perfect excuse to update at long, long last. I've started by updating the links listed below.
6/11/09 - It's been over two and a half years since I updated this! How ridiculous is that?
11/25/06 - I'm a two-time NaNoWriMo winner! [Edit: four-time!] Icon added to the bottom of the page.
1/22/06 - Mandala section added. Only two for now.
10/27/05 - "Everyone Loves Magical Trevor" pictostory added!
~~~~~~~~~~~~~~~~~~~
Places to go,
people to meet:

The website for my house!
Some friends of mine...
Laramie Sasseville: Dreamspell
A friend whose site includes beautiful fantasy-themed art in various media as well as filk songs, unique vanity bookmarks, and the Discordian Coloring Book. She's also available for hire as a graphic designer.
John Goodenough: Fantasy Illustrator
This goodhearted gaming buddy of mine has done fine illustrations for many collectible card games and other projects, mostly for Fantasy Flight Games. He's also involved in game design and playtesting.
Foxfeather Zenkova: Multitalented Artist
I met Fox through her husband, Roman. She's a master of many crafts and a dabbler at many more--overall a rather amazing person. The two of them are consummate animal lovers--their house is full of fascinating pets. Check out her Artist's Statement.
Rich Brown: Some So-Called Music
Rich Brown is a space exploration enthusiast and a filk music devotee. This page features, among other things, the lyrics to his witty and well-structured parody songs about science, science fiction, horror, and social issues.
TheSaladMagazine: A Worthy Voice from Africa
Years ago, my Zimbabwean friend Tambu Kahari founded TheSalad, a popular online publication for Southern African women that she hoped to take into print someday. Sadly, she and her co-editors have struggled with a million things since then, and now the magazine is confined to a blog format. It's still pretty inspirational!
Tambu Kahari: Books from Zimbabwe
This is a link to Tambu's store on Lulu.com. Check out her novel, The Price of Life; her collaboration on sexual issues for African women, In the Bedroom; and her children's story, Why the Tortoise Has No Tail. I met her when she hired me to edit The Price of Life. I later reformated the other two books.
Thorn Valley: A Secret of NIMH fansite
This website devoted to The Secret of NIMH and the book on which its based is an exception trove of creativity. It's run by a friend of mine who plays Timothy Brisby on NIMHmuck--a programmer who goes by the handle of Simon.
SPIRE: Imagine the Possibilities
This Yahoo group was created by a friend of mine to explore various offbeat ideas about the possible higher nature of the universe and other topics in philosophy and religion. He's always putting out new strange and fascinating belief statements to respond to, and welcomes you to do the same.
WeaselGrease on FurAffinity
WeaselGrease, formerly Xyanth, is a talented programmer who got into art not too long ago. He's become really good at drawing his specialty--Timon from The Lion King. In fact, that's the role he was playing online when I met him.

Click on the ship to check out Laramie's CafePress shop! Buy journals, clothing, greeting cards and more featuring her fascinating and beautiful art!
Hey! Check out the interactive novel I wrote: What Is Best? I'm selling it on CreateSpace!

Is it Storytime? If so, this oddball collection of fiction may hit the spot!

On the other hand, sometimes it's poetry that best amuses both hemispheres of our brains.

Perhaps it's speedily written, creative short plays that intrigue you! Check out my scripts for Carleton College's former cold-reading theater group, Chelsea 11:17!

First, there was

Survivor

. Then, there were a whole lot more

Survivor

s. Season five of this madness was called Survivor: Thailand, and I was there to write overanalytical weekly articles about it.

Are you, by any chance, a fan of the classic action/puzzle game Lode Runner? You are? Then my levels, designed for Sierra's brilliant remake of the game, will rock your world!

Are you an artiste? Then your senses will perhaps be offended by my portfolio of Crayola Marker Art!

Do you believe in the healing power of the mandala? If so, you give it more credence than I do! Nevertheless, here are a couple I made.

Interested in a stranger's opinions on webcomics? Here's a list of the ones I read--with ratings, because I like numbers!

I'm only a dabbler in the fine art of cookery, but for some reason I decided to put up this somewhat embarrassing page of pseudo-recipes! Enjoy if you can!

If you've spent as much time MUCKing about as I have, you may relate to this homage to text-based roleplaying! (Coming soon)

Though it be somewhat dated, the socially conscious may wish to take a look at Light Rail, Heavy Concerns: a college web project about the development of Minneapolis's Hiawatha Line.

Games are an important part of my life. How about yours? If you're interested in checking out my various inventions and variants, this is the place to look.

Even if you have the bad habit of screwing your head on upside-down in the morning, you can still ensure some legibility through the judicious use of

ambigrams

.

If you are part of the significant throwback population that still calls Nintendo's "The Legend of Zelda" its favorite video game--or you would like to be--then click here!

The time has come! Make your choice!!!!!



Clicking on me is a PG-13 act!


This website is listed through the Free Search Engine Submission service of Addme.com.


Sign my Guestbook
View my Guestbook